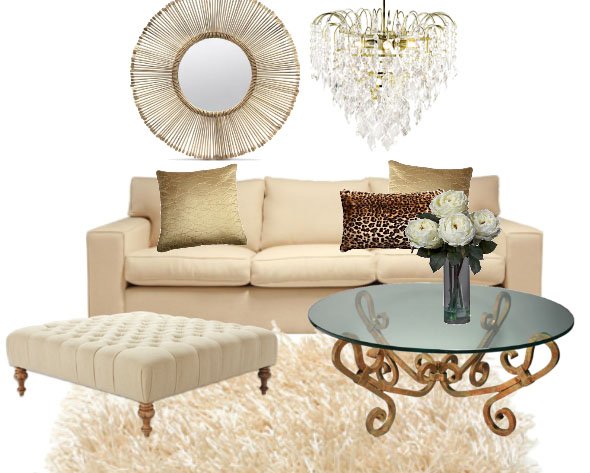 Readers Request: 'I'm a fan of leopard print… if done right! I love to wear accessories with jungle-inspired themes, just like you showed in one of your posts: flats, scarves, bags. I've been thinking of including this type of print in my new home, too. Since I'm definitely not gonna put leopard wallpaper on my walls lol, I could totally see my rooms with some leopard print pillows. Can you tell me where I can find good, affordable ones? And how exact should I combine them to make them work in my new space?'
HTBT Responds: You can include leopard print pillows in a variety of styles, but the most easy-to-achieve ones are definitely and neutral glam (pic above) safari and eclectic:
Neutral Glam – Start with ivory, beige tones and include occasional metallics and avoid anything too poppy and too loud. Add leopard pillows on a taupe couch in a mix with simple ones in similar hues, ranging from white to dark brown. Add glam details, such as a beautiful chandelier, metal mirrors and French-inspired pieces.
African/ Safari – Go all the way with the theme, but don't repeat the leopard print. Look for African prints and jungle-inspired items, such as bedding, vases or lamps. Use rich browns, dark green and dark orange or stay neutral in black and white plus nude tones for a luxurious safari look.
Eclectic – You are allowed to mix and match various items with different origins, made of different materials and representing different aesthetics. All colors are welcomed, following this recipe: two hot and intense colors, no pastels, browns or white as wood. Nothing needs to be matchy-matchy here, as you can combine pillows with text messages with floral ones and leopard print ones, simply by following your instinct.
Here are 5 different leopard print decorative pillows with prices ranging from $25 to $109: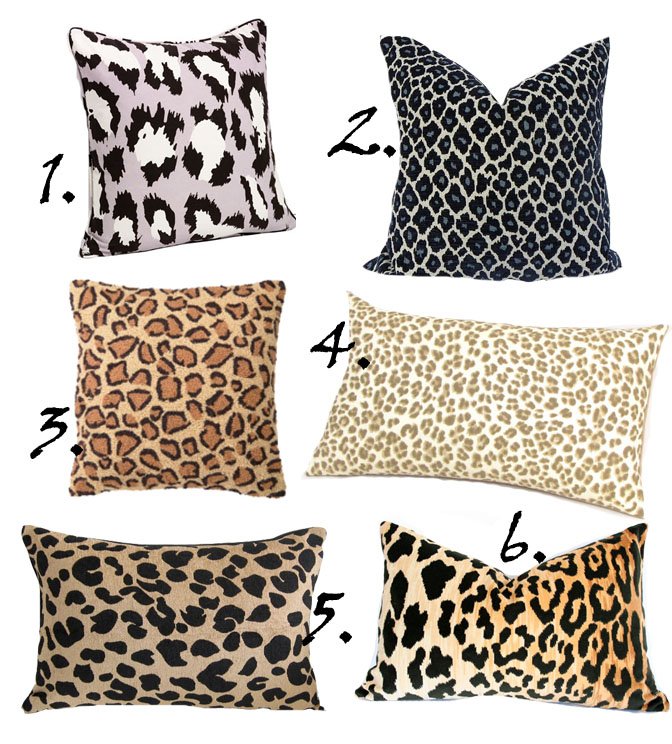 1. Diane von Furstenberg 'Spotted Cat' Pillow $109
2. Etsy Velvet Leopard Print 20X20 Pillow Cover $47
3. Amazon 18 by 18-Inch Hook Pillow $41
4. Etsy Leopard Pillow Cover 12″ by 20″ $30
5. Etsy Decorative pillow cover $25
6. Etsy Leopard Print Pillow Cover 11 x 17 $45
More Inspiration Files: