SITUATION: You just gained a few pounds and you've got to attend a hip party that gathers all your friends who know that you've been slimmer. FLASH IDEA: Wear Black! On one hand, black can make you look glamorous and sophisticated, not to mention that it is incredibly flattering on any type of body. So, if we already convinced you that a black dress is what you desperately need, then here are a few tips on how to make this look work: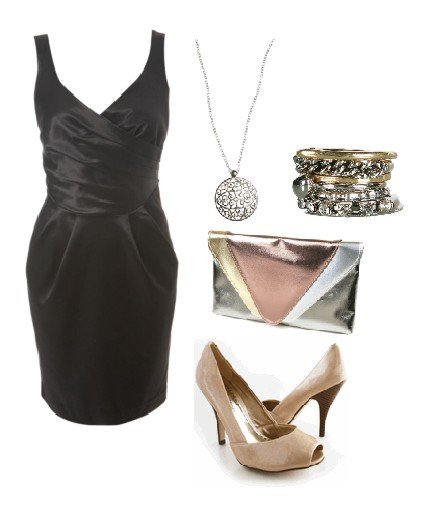 STEP NUMBER 1: get your little dress out of the closet. If you don't own this mandatory must-have yet, then rush to the store, since it is probably the best investment you will ever make. Opt for a classic shape that never goes out of fashion, since you will accessorize it according to the current trends. FLASH RULES: get a cut that accentuates your waist in case you're an hourglass, get a wrap dress to hide your thicker middle or get volume on top in case you've got big hips.
STEP NUMBER 2: since your dress, the main item, is black, the best way to make it stand out is to opt for some shoes with colors, personality and sparkle (no, not the super high purple glittery shoes, let's not go to extremes here). Now we all know the classic combination black dress – red shoes and, frankly, it kind of gets boring. So, it appears that yellow is the new red and, well, fuchsia will be the new yellow. If you don't want to attract the attention on your feet and would like to avoid wearing such vibrant nuances, then go for a classic pair of tan or golden shoes that match with your skin tone.
STEP NUMBER 3: the bag. Well, since you are headed to a party, the bag must be small. Yes, I know the large bags that are so hip today are extremely comfortable, but a fashionista knows that they are destined to be worn during the day. So, what are your alternatives? First of all, check the fashion magazines: who says that we still have to match the shoes with the bag? In fact, if you are wearing pink shoes, a pink bag kinda looks ridiculous, regardless if the nuances coordinate perfectly or not. You've got tan shoes with your all black outfit? Then go for a clutch in gold or silver. You've dared to wear yellow heels? Then how about a vivid blue bag? Yes, you heard it right – strong, powerful colors go together!
STEP NUMBER 4: avoid the common mistakes. Firstly, if you've got vividly colored shoes or bag, don't try to get matchy by wearing earrings, bracelets or belts in the same colors – it rarely works, end of story. Limit the rest of the accessories, in case you've got flashy shoes and/or purse. If you got the tan or golden shoes, you can wear layers of sparkly bracelets or pendants.
So, there you have it: 4 trendy tips on how to make a black dress the point of attraction. Don't forget to wear the confident attitude and you're good to go!