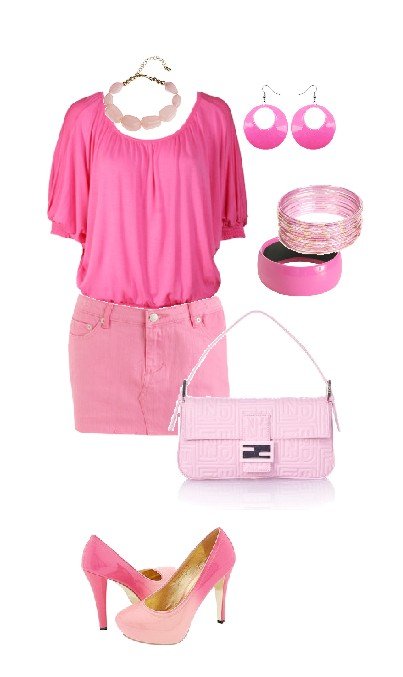 Let's face it: pink is the most diabetic color. Like, you know, too much pink feels like eating too much cotton candy and, well, that can lead to diabetes. Even if pink is, obviously girly-like, feminine, delicate and sweet, it can also be a factor of dizziness and nausea. So: where is the actual limit between "pretty in pink" and "too much pink"?
Imagine this: pinky toe nails, pinky finger nails, pink dress, purse and shoes, bracelets and earring. And pink lips, matched with a pink blush. I have seen it in the street – haven't you? I suddenly felt the need to eat something really sour, you know, like a gallon of lemon juice. So, if you don't want to cause the same "pink overload!" reaction to the people around you, yet you like pink, you enjoy pink and you live in pink, and, therefore, you want to be pretty in pink, here are some effective compromises:
1. Nobody says you shouldn't wear a pink dress. But I do say that if you do wear it, then don't match it. With anything. No pink accessories whatsoever – the only thing that should be allowed in this picture is a pale pink gloss, if you wish.
2. There is the matter of what specific nuance causes the "too much pink" feeling. Well, I am obviously not referring to the trendy grayish pink (the one you don't know what it is, grey or pink, also known as the lungs' color), just like I am not referring to the pale pink, paler than the "It's a Baby Girl!" clothes. What I am talking about is that pink that is most likely referred as the "bonbon pink" or "hot pink".
3. No pink hair with a pink outfit. If you need and must do something crazy to your hair, do it green. Violet, blue, just not pink with a pink outfit.
So, there you go: top 3 rules that you need when deciding that you are in a pinky mood. Stay pretty in pink without going to the overly sweet, overly kitsch and "Look at me, I am a Barbie" "too much pink" extreme.