With summer in full swing, it's the perfect time to get outside and enjoy the great outdoors. And one of the best ways to take in those panoramic views is by going on a hike. But to truly make the most of your hiking adventure, having the right outfit is key.
When it comes to hiking clothes for women, functionality and comfort should be your top priorities. At the same time, today's activewear brands offer stylish hiking outfit options so you don't have to sacrifice fashion for function.
To help you pull together the perfect hiking ensemble, here's an in-depth look at what to wear hiking along with tips for choosing flattering, comfortable, and cute hiking outfits for women.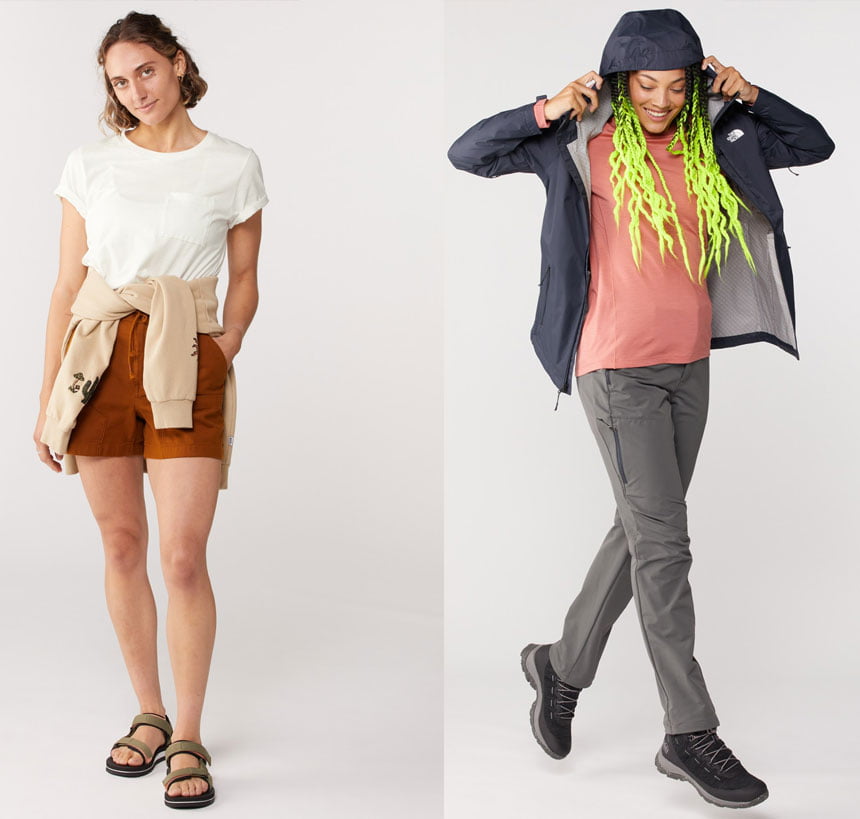 Hiking Pants and Shorts for Women
Starting with the bottom half of your hiking outfit, let's look at the best options for hiking bottoms. This includes everything from leggings to pants to shorts.
Women's Hiking Pants
A sturdy and stretchy pair of hiking pants should serve as the foundation of your trekking outfit. When shopping for women's hiking pants, look for these features:
Lightweight and breathable fabric such as nylon or polyester blends. This will keep you cool and comfortable.
UPF protection to shield your legs from the sun's harmful rays.
Stretchy fabric with spandex for ease of movement.
Durable yet soft fabric that resists tearing.
Water resistant or waterproof coating.
Deep pockets to hold small trail essentials.
Adjustable waistband and ankles help get the right fit.
Available in petite, tall, and plus sizes.
Some top-rated hiking pants for women include REI Co-op, Columbia, and Eddie Bauer options. Look for pants with a high waist or belts to avoid any uncomfortably sliding down mid-hike.
Hiking Leggings and Tights
Leggings and tights are popular for hiking since they allow full range of motion. Try hiking leggings with ankle zips that let you slide them on over hiking boots. Some great options include Athleta, Outdoor Voices, and Prana leggings.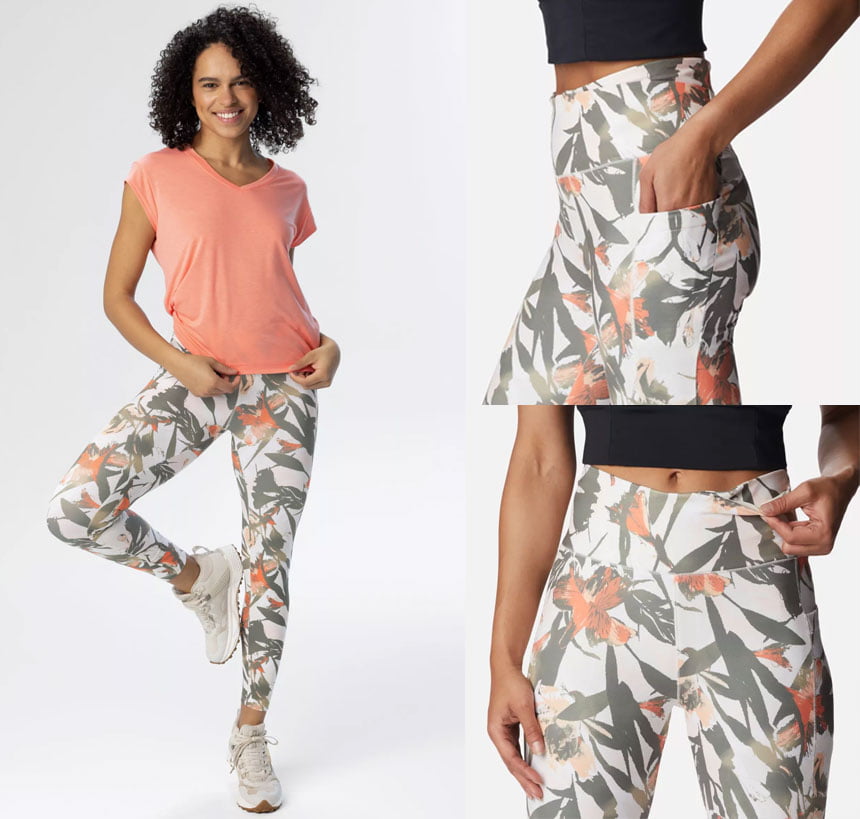 Hiking Shorts for Women
Don't want to wear long pants in the summer? Hiking shorts are a great alternative to stay cool on the trail. Ideal women's hiking shorts have:
5-7 inch inseam length
Moisture wicking woven fabric
UPF 50+ sun protection
Stretchy waistband with adjustable cinch cord
Zippered pockets to securely hold essentials
Some of the top women's hiking shorts brands are Patagonia, Marmot, and The North Face.
For more coverage, try active skorts which have a skirt overlay on shorts. Skorts allow air to circulate so you don't overheat. Popular options are the Columbia Saturday Trail Skort and Title Nine Sidewinder Skort.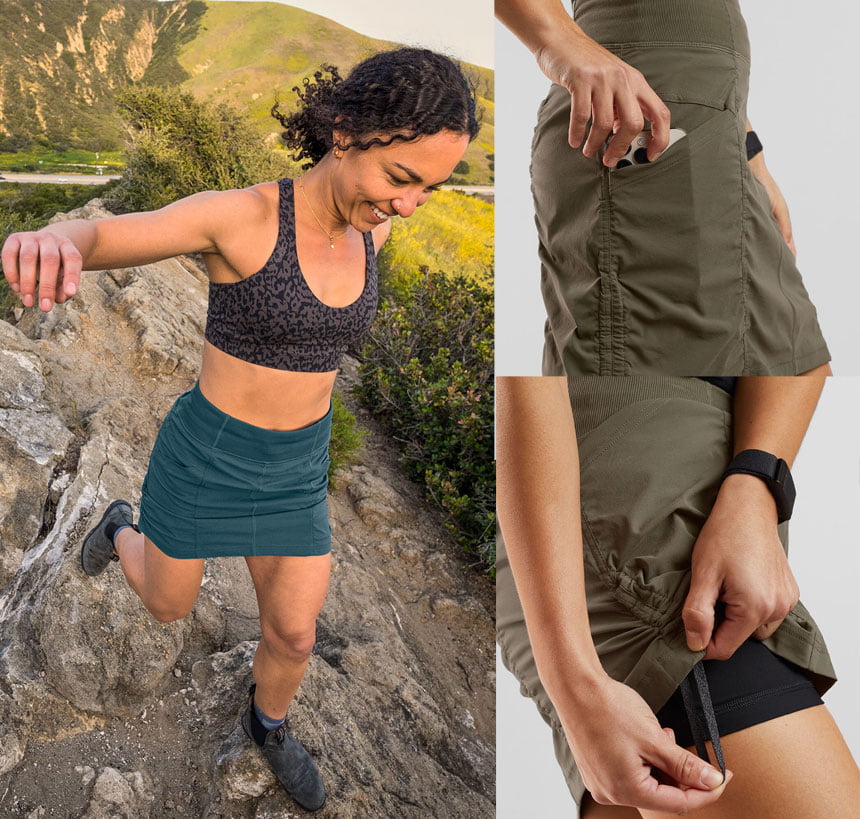 Hiking Shirts and Tops for Women
Next, let's talk about how to pick the best hiking tops and shirts to pair with your bottom base layer.
Hiking Shirts for Women
For the main upper body layer, go with a moisture-wicking hiking shirt or button-down for women. Ideal features include:
Lightweight and quick-drying synthetic fabric or merino wool
UPF sun protection and venting to prevent overheating
Long sleeves to protect from bugs, branches, and sun exposure
Mesh panels for added breathability
Zippered pockets to securely hold small items and snacks
Available in extended sizes including petite, tall, and plus sizes
Some recommended long sleeve hiking shirts for women are from brands like ExOfficio, The North Face, and Toad&Co.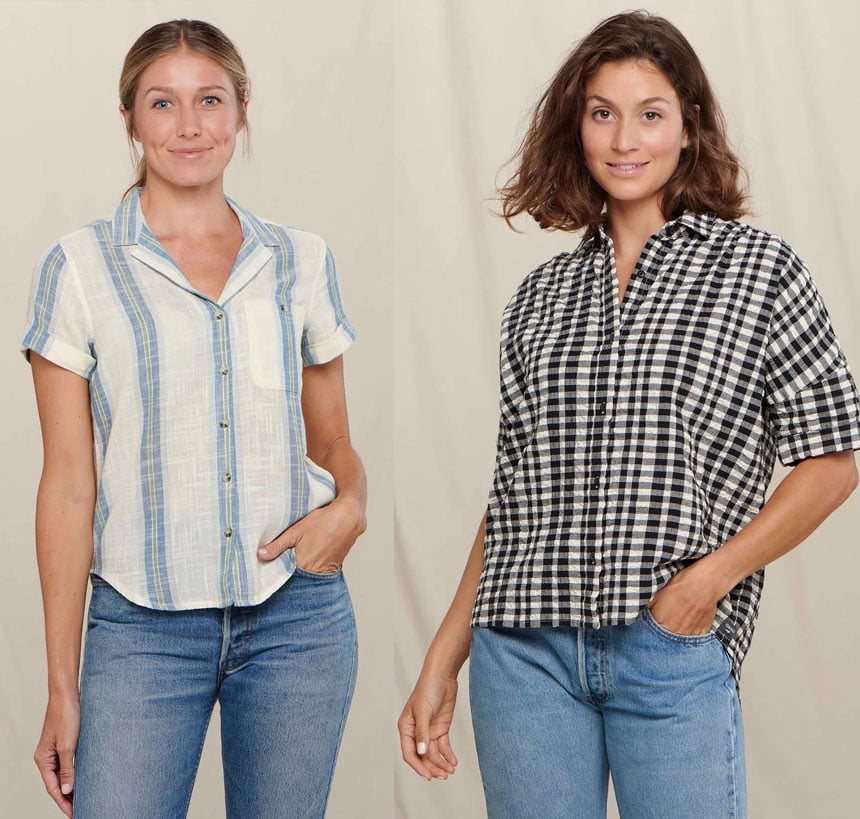 Hiking Tank Tops
Tank tops are great for hiking in hot weather. Look for:
Lightweight synthetic moisture-wicking fabric
Loose fitting silhouette for airflow
Racerback style for ease of movement
Built-in shelf bra for support
UPF sun protection
Top hiking tank top brands include Athleta, Patagonia, and Marmot.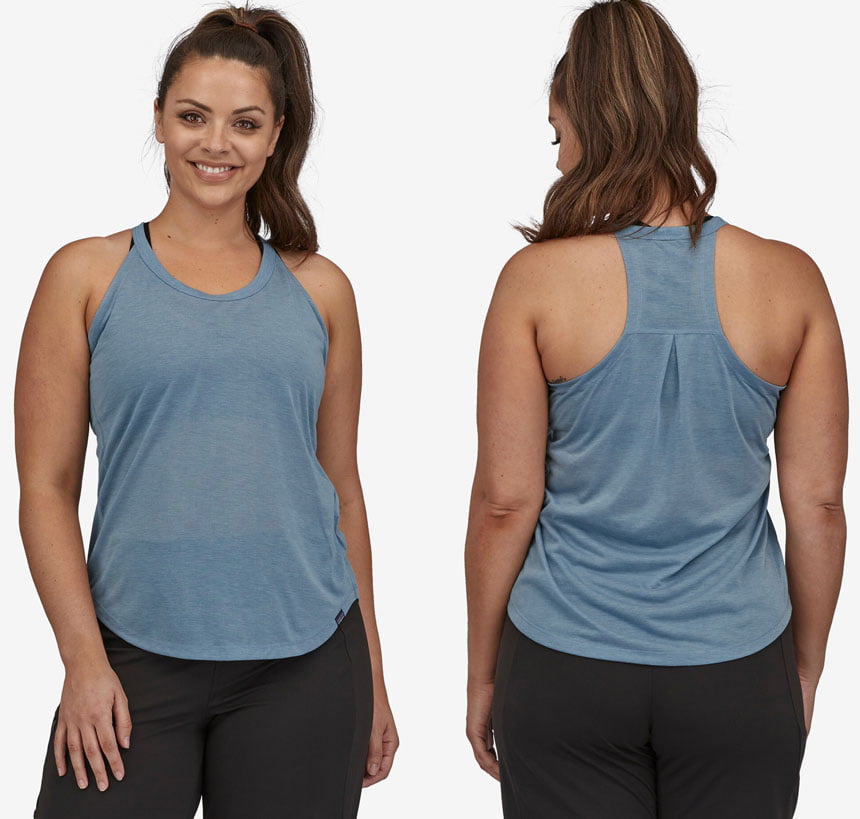 Hiking Bras and Underwear
Don't forget supportive undergarments! Padded sports bras and seamless underwear will prevent chafing. Check out Knix, Smartwool, and Patagonia for hiking underwear.
Layering Essentials for Hiking Outfits
Depending on the weather and trail conditions, you may want to add these layering pieces to your hiking outfit:
Hiking Jacket
Pack an insulated lightweight jacket for colder weather or once the sun goes down. The North Face and Arc'teryx make nice hiking jacket options.
Flannel Button-Up
A flannel shirt adds warmth and style layered over a tee or tank. Duluth Trading Co has great flannel hiking shirts.
Vest
For a lightweight outer layer, you can't beat the utility of a vest. Choose a puffer or fleece vest from brands like The North Face.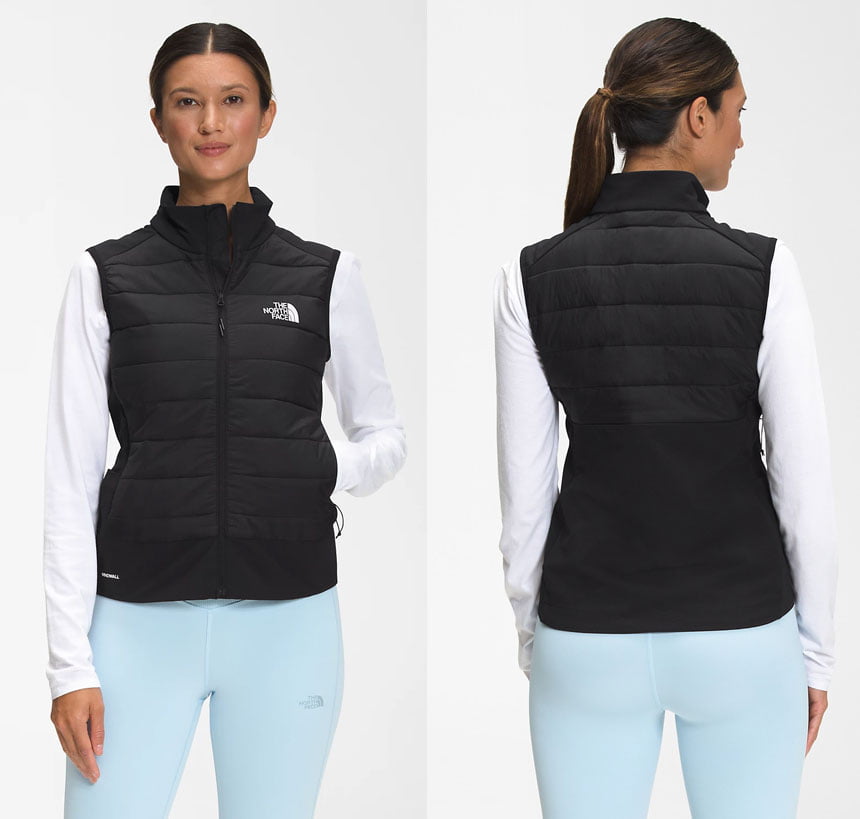 Hiking Dress
Dresses are wonderful one-piece options for hiking. Look for a sporty shirt dress made of quick-dry, stretchy fabric from Eddie Bauer or Title Nine.
Hiking Outfit Essentials: Socks, Boots, Hat, Etc.
Now let's round out your hiking outfit with accessories and essential pieces.
Hiking Socks
Select moisture-wicking socks designed for hiking to prevent blisters. Darn Tough and Smartwool are top brands.
Hiking Boots or Shoes
Invest in waterproof hiking boots or trail shoes with sturdy soles. Try Salomon, Merrell, Lowa, and Oboz.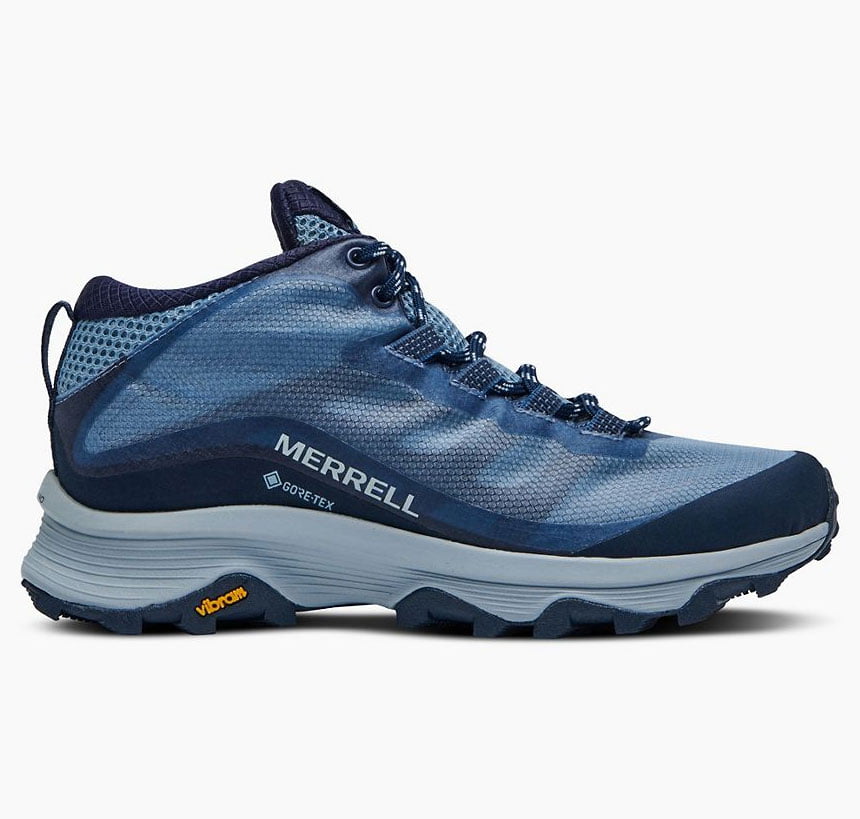 Hat
Shield your face from the sun with a wide brim hiking hat or baseball cap. Brands like Columbia, Outdoor Research, and Patagonia have great options.
Sunglasses
Protect your eyes from glare with polarized sport sunglasses from Maui Jim, Oakley, or Spy Optic.
Backpack
Carry water, snacks, layers, maps and more in a comfortable, well-fitting backpack. Osprey, Gregory, and Deuter make excellent women's hiking backpacks.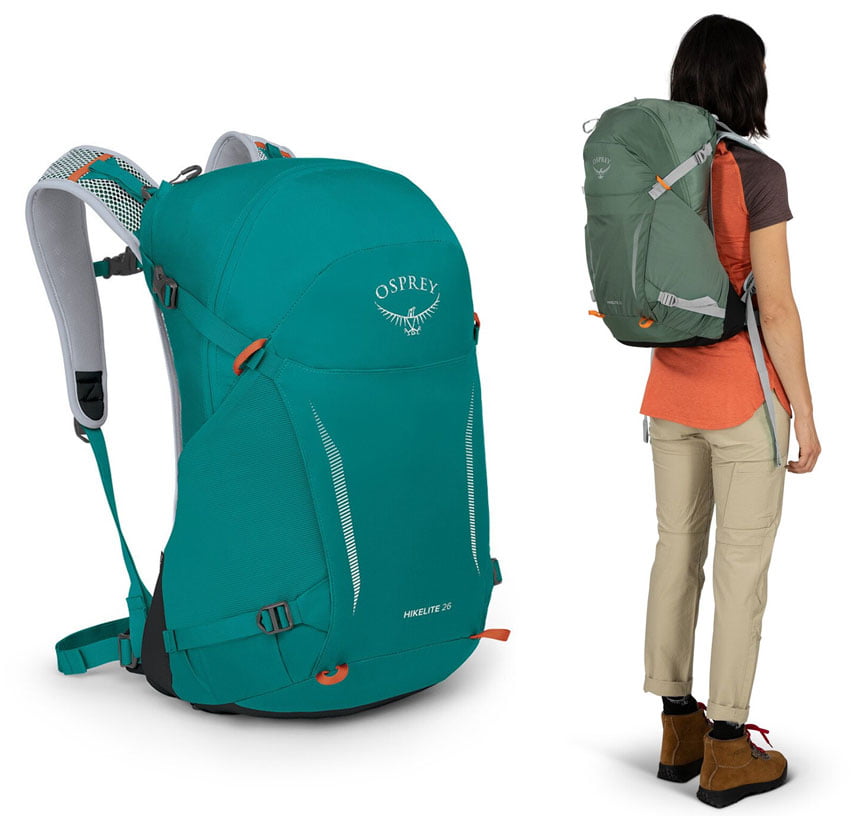 Trekking Poles
Poles help with stability and take pressure off your knees when going downhill. Black Diamond and Leki are top trekking pole brands.
That covers all the key pieces to build stylish, functional women's hiking outfits! Keep reading for extra tips on choosing the most flattering hiking clothes.
Tips for Choosing Flattering, Comfortable Hiking Outfits for Women
The right hiking clothes don't just help you feel good on the trail – they should also help you look good! Follow these tips for choosing hiking outfits that are both cute and comfortable:
Opt for a high waisted fit – High waisted hiking pants or shorts are more flattering on most body types compared to low-rise styles. A high waist also helps prevent wardrobe malfunctions!
Find your perfect inseam length – 7 inch inseams tend to be the most leg-flattering, avoiding styles that hit above mid-thigh. But go for whatever inseam you feel most confident in.
Look for adjustable waistbands and ankles – Being able to cinch the waistband and ankles ensures a customized fit so your hiking bottoms stay in place.
Choose compression leggings – Leggings that offer compression can help smooth and shape your legs.
Pick flattering colors – Go for darker hues like black, deep green or blue on the bottom half to create a slimming effect. Lighter colors like white and beige are perfect for breezy hiking shirts.
Get the right fit – Make sure your hiking shirts aren't overly boxy or tight. You want enough room to move freely without feeling constricted.
Consider a vest or jacket – Adding an outer vest or jacket creates more flattering body proportions by balancing out wider hiking pants or shorts.
Finally, remember to wear whatever hiking outfit makes YOU feel the most confident and empowered out on the trails! The most important part is gearing up so you can enjoy the beautiful outdoors and hike happily.
Get Ready to Hit the Trails!
With this complete guide to hiking clothes and gear, you have all the info you need to assemble cute, comfy hiking outfits tailored to your unique style and the weather conditions. Just remember to bring the essentials – sturdy hiking boots, sun protection, plenty of water, and snacks.
The rest is checking the trail map, lacing up your hiking boots, and getting on the path to outdoor adventure. Have an amazing time making special memories out on the trails this hiking season! Let us know if you have any other questions about hiking outfits and gear for making every hike your best one yet. Happy trails!
Frequently Asked Questions
Can I wear jeans for hiking?
Jeans are not ideal for hiking as they restrict movement and get hot. Opt for lightweight, stretchy pants made of synthetic moisture-wicking fabrics instead. Breathable hiking pants will keep you cooler and allow you to move freely.
What should I wear for the first time hiking?
For your first hike, wear comfortable clothing in layers. Bring a base layer top to wick sweat, an insulating mid layer like a fleece, and an outer waterproof/windproof jacket. Wear hiking shoes or boots with ankle support and good traction. Pack extra socks, sunglasses, sunscreen, a hat, and plenty of water and snacks.
Do I need to wear a bra while hiking?
You'll likely be more comfortable wearing a supportive sports bra or bralette while hiking. Avoid flimsy bras that may chafe. Look for bras with wicking fabrics that keep you dry. Compression sports bras minimize bounce during active hikes. Go braless at your comfort level.
Can I wear leggings to hike?
Leggings are great for hiking as they allow free range of motion. Look for leggings made of durable, sweat-wicking material with some stretch. Make sure they are not see-through if you'll encounter other hikers. Wear leggings under shorts for modesty and sun protection. Bring a change of clothes for after your hike.