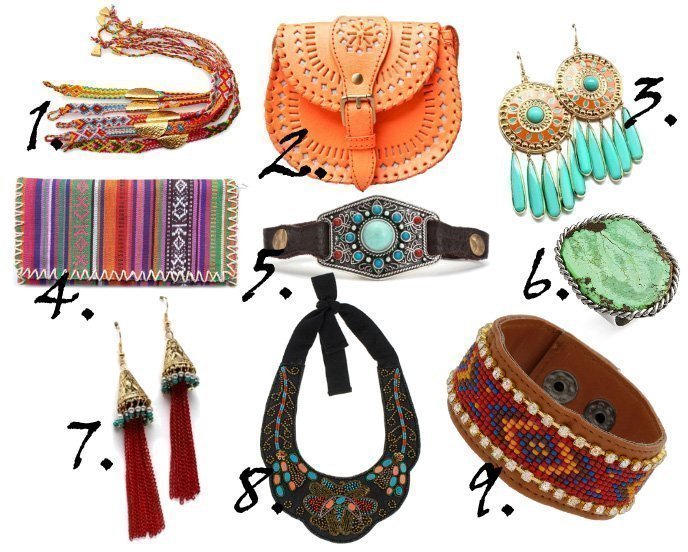 Turquoise stones, coral orange, ethnic vibes, rough leather, beaded bracelets and  a strong bohemian feel – in other words: HIPPIE accessories! From tassel earrings to anything turquoise, intricate handmade necklaces and cuffs, strong color combinations with folk symbols, the hippie trend never actually died – and this season, you can opt for a wide range of artistic pieces that can transform your outfit from boring to creative.
Not sure what to choose? Here are a few ideas:
1. Cantina Cross Body $119.00
2. Hand woven friendship bracelet with gold EUR 78.00
3. Samura's Bohemian Style Turquoise & Coral Chandelier Earrings $38.95
4. Stripe Foldover Wallet $11
5. Carved Leather Wrap Cuff $32.00
6. Liz Larios Jewelry Turquoise Ring $98.00
7. Sharla's Turquoise Accented Long Red Tassel Earrings $33.95
8. Necklace Wice € 14,98
9. Friendship Bracelet £12.50
How to Wear Hippie Accessories:
1. No need to become an actual hippie to enjoy this trend. In fact, polished + hippie really works! So, go for it and opt for an urban chic outfit and add a touch of rustic and ethnic with a hippie bling.
2. DON'T be afraid to mix prints, patterns, textures and fabrics. Denim and leather are definite favorites; add florals in the mix or pieces with ethnic-inspired graphics, too.
3. DO layers and say 'hello' to innovative and unexpected combinations – after all, nothing says 'modern hippie' better than an overall eclectic look.
4. Other hippie favorites: flat sandals with straps, fringe bags, long necklaces, colorful scarves.
From our inspiration files:
Mixed prints and layers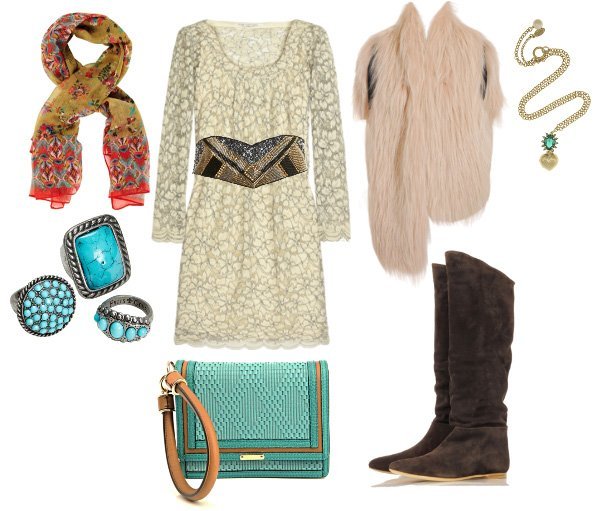 Lady in fall colors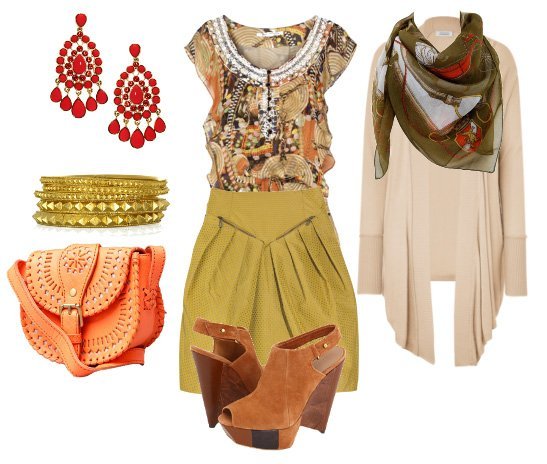 Edgy leather and boho denim