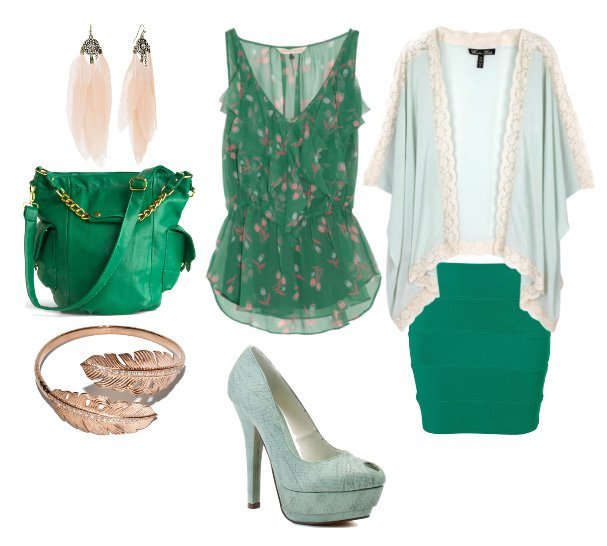 Dressing up is so much more fun when you're committed to a theme! Our suggestion of the day: a forest green outfit with minty flavors and just a touch of soft pinks for a complete nature-inspired, yet very urban chic and feminine look!
HOW TO MAKE IT WORK:
1. Commit to our selected hues: forest green and minty blue/green. The nuances don't need to match perfectly, but pay attention to the volumes and proportions: opt for one tight, fiure-hugging item and for one or two loose items that provide some flow.
2. Add some dainty details that work with our theme – think forest, think leaves! Flowers, feathers and other pretty little natural elements are welcomed as well!
Our selected items for this fresh look:
$50 Think It Clover Bag – Mod Cloth
€152.66 Tulip-print silk-chiffon blouse – The Outnet
$58 Kovie Pump in Mint – Heels
$175 Melinda Maria Nina Feather Rose Gold Bangle – Les Pommettes
$10.80 Gold Tone Simulated Crystal & Feather Filigree Drop Earrings – Kohl's
$171 Winter Kate Condor Lace Trim Drape Top – My Wardrobe