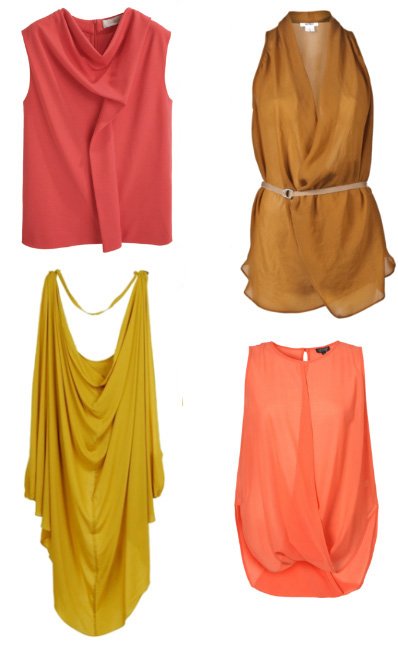 Drape tops are still IN and even more so, this spring, they come in beautiful colors that range from sorbet hues to rich and savory tones. While they may be more difficult to wear than a basic, they are definitely worth your interest, since they can add an extra dosage of sophistication to any outfit.
How to choose them:
Choose pieces that flatter you, as a draped top can look tricky on various body shapes. Opt for a deep V-neck if you are endowed with big bra sizes and go with a longer piece if you aren't happy with your middle area – the good news is that these pieces and their wavy aspect will camouflage a less-than perfect tummy. Here are a few different pieces to choose from:
Drape Cape Top £170.00
Sleeveless Drape Front Blouse $60.00
Layered shroud top €229.00
Draped Jersey Top $147.50
How to wear them:
A drape piece is a statement piece for sure. It's not a basic, it's not simply cut, it's not plain. So let it shine and air it with a more basic piece in a classic cut. Classic cut pants, skinny jeans, a tight miniskirt are great options, since they don't add extra volume on your figure and balance the proportions of the draped piece.