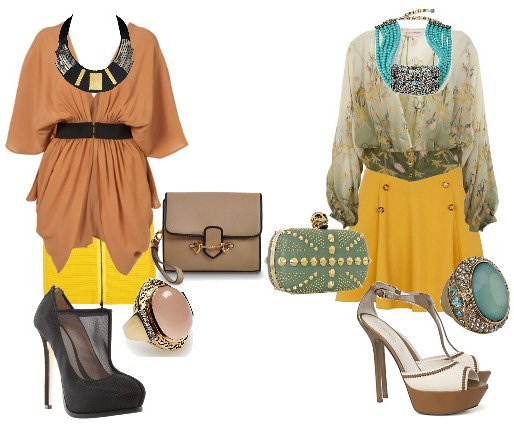 Reader's E-mail:
"I've noticed that you color-coordinate your posts and I was thinking if you could help me out with something: last year, I bought a beautiful and not so cheap yellow skirt and I never wore it… because I'm stuck when it comes to matching it. How should I wear it without looking like 'too much' or 'too try-hard', yet still posh. I'd love an answer with images, as I'm pretty bad when it comes to matching different colors!"
HTBT Responds:
While yellow may not be the most versatile color, it's definitely FUN to wear. So, make the best out of your beautiful skirt following these simple guidelines:
1. Colors to choose from: neutral browns, beige, grey, ivory, black and white, then pale blues and pastel greens with turquoise accents.
2. Colors to avoid: reds, intense blues and greens, orange (with the exception of a few softer brick hues), purple and pink (but feel free to use neutral dusty pink tones).
3. If the outfit is still in the 'too yellow' territory, minimize the quantity of the hue by opting for a longer top over your skirt.
4. Avoid the matchy-matchy effect by using different shades of neutrals or use prints (but nothing too graphic) to diminish the yellow.
5. Create layers with belts, necklaces, scarves, cardigans – these will make the entire look seem more effortless, yet very put together.
Get stimulated by our Inspiration Files!
Posh and Carefree Urban Girl: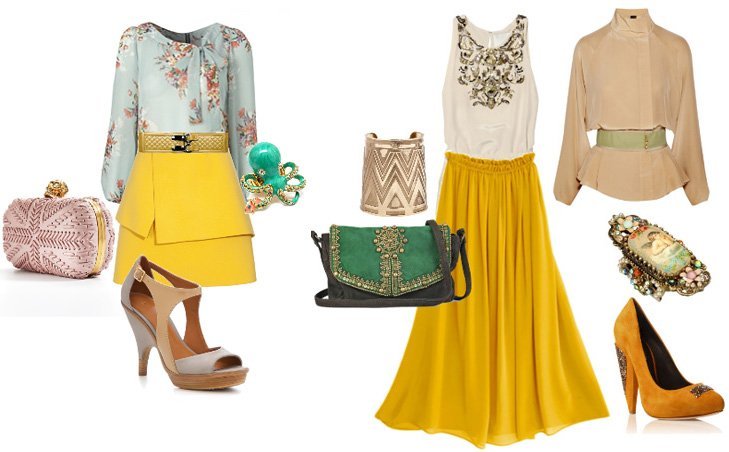 Warm and Cozy Bohemian: