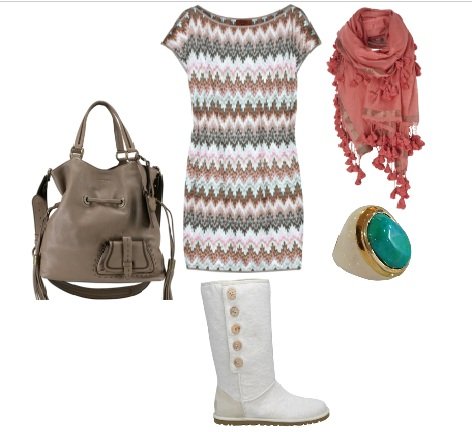 A while ago, we gave you a little suggestion on how to avoid the classic jeans + uggs combo – take a peak HERE!
Today we've got a new suggestion that involves the forever-comfortable Uggs, now with an extra dosage of style. Style and Uggs in the same sentence? Well yes, we are dethroning the myth that says it's undoable.
* Ugg boots and knit dresses make a lovely pair. So how about a knit dress with a print? Go for shapes that slightly resemble tunics – you don't need too much structure when wearing Uggs! As for the print, get ethnic-inspired ones or abstract shapes.
* Scarf it up! An oversized scarf in a solid tone will give you that casual, yet effortlessly stylish look that you're looking for.
* Bag it Up! Get a casual, low-maintenance daytime bag in a nude / gray tone to complete your casual-chic look.
* Stay natural! Avoid shiny textures, plastics, vinyls, glass, precious fabrics and everything else that looks fabricated / artificial. All tones and textures should stay in the natural zone, with slight rustic / unrefined influences.
* Accessorize, but don't over-accessorize. How to do it: take a look at your print and find the least noticeable color. In this case above, it's a dusty shade of turquoise. Find one small item (like a ring) in that tone (you can go bright, too!). Avoid highly decorative, embellished, too golden or too sparkly jewelry when wearing Uggs – get solid, plain, slightly rough pieces. Wood & stones work best!