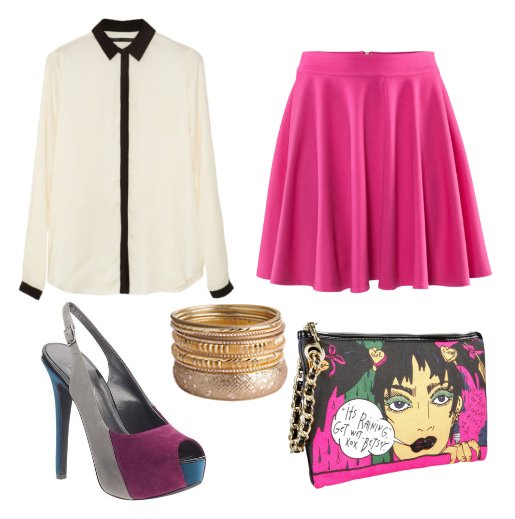 Any girl is in the mood for hot pink once in a while – but how to wear it without looking similar to Barbie? Here's an easy to wear from day to night outfit, just perfect for a girl that's not afraid to be a little funky and girlie at the same time!
HOW TO WEAR:
1. Tone down the vivid pink skirt with a classy and elegant black and white shirt with a dainty collar.
2. Opt for a statement clutch for that extra funky factor!
3. Heel it up with a platform peep-toe that celebrates the colors of your outfit!
4. Add limited amounts of bling, you're already on the map when wearing hot pink!
$6.80 Glittered Bangle Set – Forever 21
$34 Raining Betsey Clutch – Betsey Johnson
$9.46 Long Sleeve Fashion Simple Design Blouse White – Wholesale
£12.99 Hot Pink Skirt – H&M
$49.99 Princess Heels by Jessica Simpson – Heels