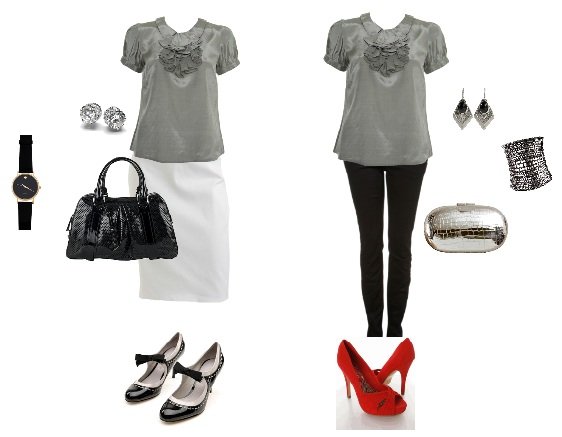 1 Blouse, namely Tulle Frill Blouse from Topshop and 2 different outfits: one office-like, perfect for your daytime meetings and one going-out-like, perfect for fun nights out on the town. We all know the basics of upgrading or under-grading a clothing item, but how about taking one blouse and making it seem occasion-appropriate, wherever we go?
1. Big Bag VS Small Bag – match a big bag with your versatile top for the day and grab a small chic one for the night. If you're going shopping or simply running errands, you don't need shiny textures (shine upgrades an outfit). If you're going out, go for a statement accessory bag to glam up your look.
2. Classic Shoes VS Classically Sexy – go for oxfords or derivates if you're wearing your versatile top to work, but choose a hot color and a sexier fabric (suede, velvet, lace) when you're pairing your top with your going-out accessories.
3. Knee-length VS Show Your Curves – pencil skirts or slight A-line skirts are ideal if you're running business meetings, but if you you're about to rock the dance floors, pair your versatile top with skinnies or with black leather pants.
4. Keep it Simple VS Bling – Keep the accessories to a minimum if you're spending the day at the office – studs and watches are always good to go! But if you're going out, you can go ahead and add extra bling to your look, aka silver bangles, chandelier earrings, bracelets or long / statement necklaces.