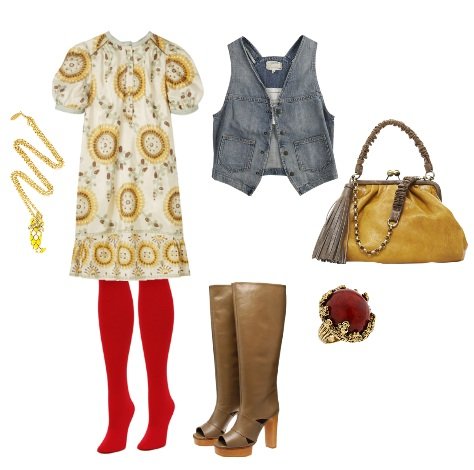 Who doesn't own a pair of black tights in their closet? We all do and no wonder – they're comfortable, they're warm and they are extremely versatile. But every once in a while, even our legs feel an acute need for COLOR! Vibrant red, intense purple, cobalt blue, deep green and sunny yellow are all welcomed! Not sure how to walk around with colorful legs? Here's how to incorporate fun tights in your daily outfits:
1. Show them all VS Show a fragment – if you are not bold enough to wear minis, pumps and colorful tights, no worries – you don't have to! Showing off your entire red legs from up to down may be a little too eye-catching for you, so then mix your vivid tights with till-the-knee dresses and / or with boots, but make sure you don't camouflage your entire leg (what would be the point?).
2. Since you're already wearing a poppy color, select the other tones carefully. Neutrals can be incorporated – and they look best as part of a print (pic above). Prints are easiest to match with colorful tights because you get the chance to match one color from the print with your tights (pic below). you can go ahead and use 2 bold colors in your outfit (red and yellow above and purple and pink below), but not more – keep the rest for neutrals, whites, black or greys.
3. Colorful tights are not as super flattering as the classic opaque black ones, so your legs won't look as fabulously slender – if you're a bit worried about that, then avoid pairing them with flats and embrace a medium heel or platforms. Super high heels aren't always the best match for colorful tights because these items are by definition more youthful and jolly, while high heels are the epitome of sexy.