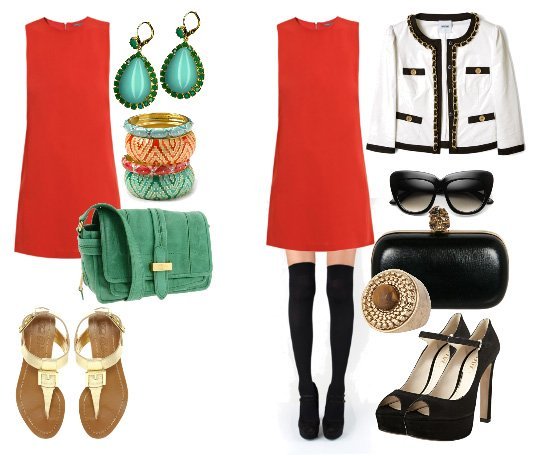 Reader's Request: I recently got an orange dress for my birthday from my aunt, it's simple in style and I find it pretty (it is very similar to this one), however, being a more jeans+t-shirt kind of girl, I have no idea how to wear it, how to accessorize it. Should I pair it with brown or what colors? Any advice will be appreciated!
HTBT Responds: Brown is a safe choice when it comes to orange, but it's not the only one. Such an intense, dark orange works with a wide range of shades, from crisp white and black to all neutrals, blush tones, denim tones, gold and even turquoise. And since your dress has a subtle retro look that reminds of Twiggy's outfits in the 60's, you can play that vibe and modernize it with the help of accessories at the same time. Here are 4 different outfits, one for each season:
Summer: Opt for golden flats, a colorful bangle set, a turquoise bag and matching earrings. Orange and turquoise are a popular match, as found in many ethnic prints and 60's and 70's inspired outfits.

Autumn: Dark orange can pass as red and nothing suits red better than the classic combo of black and white. Over-the-knee socks give you that retro vibe and a classy cropped blazer, vintage shades and a boxy clutch complete the look.

Winter: Browns suit this season very well: think of a comfortable cape that follows the A-line of your dress, paired with a multi-toned scarf, a neutral bag and long boots.

Spring: Opt for a fresh and comfortable look based on a denim jacket, a boho scarf, tones of grey and dusty blue and simple ballet flats.