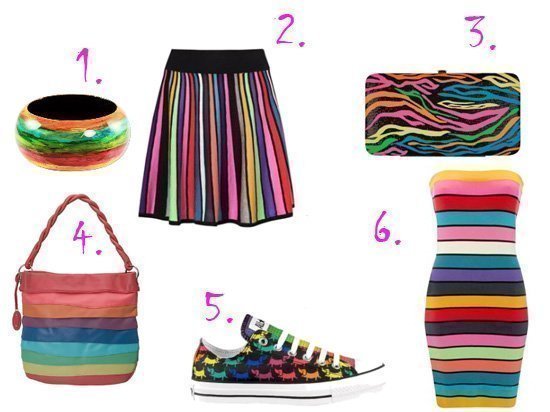 Color up your day with a bunch of fun and vibrant items that feature all the colors of the rainbow!
Here's a selection of bags, clutches, tops, skirts and accessories, not super expensive, all lined up nicely with vivid joyful tones and all for you:
1. BKE Rainbow Bangle Bracelet $ 12.00
2. French Connection Wimbledon Knits Skirt £55.00
3. Rainbow Zebra Hinged Wallet $12
4. Nine West Watermelon Syn $70
5. Converse All Star Lo Rainbow Dogs Athletic Shoe – Black
6. French Connection wimbledon dress $138.00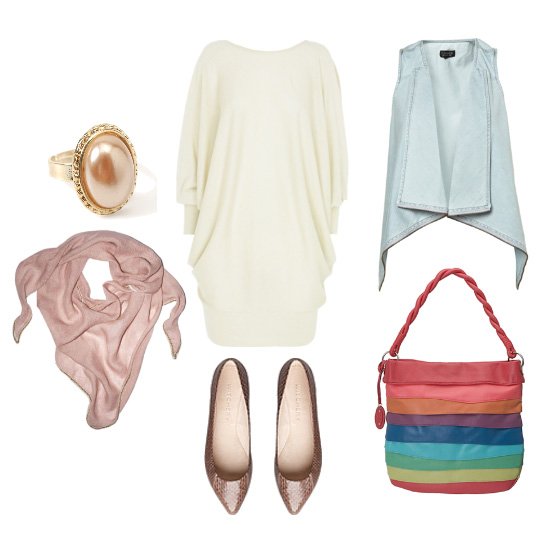 Tips on How to Wear Them:
1. Don't match Rainbow with… Rainbow. One statement mega-colorful piece does the job just fine!
2. Avoid wearing an extra solid color item – like a yellow jacket over a rainbow dress or a red top to a rainbow skirt. Color overload risk!
3. Find the palest of the palest tones and match them with your rainbow item – if the item has hot pink in it, go for the dustiest shade of pink (which is considered a neutral) to complete your look.
4. Opt for denim, white black and, on occasion, grey to finalize your outfit and to bring out your statement colorful piece.