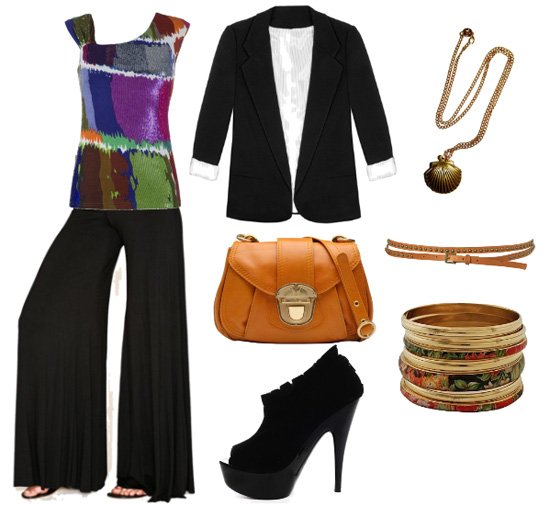 Wide leg pants can be a challenging piece of clothing, and at a first sight, it's one of those items that seem not-so-flattering in most combinations. Well, we're about to dethrone that myth – here's a fast and easy-to-apply mini guide on how to wear wide leg pants:
1. The Pants: start with black wide leg pants – or beige, or grey – definitely not hot blue or neon green. They're the least problematic.
2. The Top: since your pants are super wide, you're taking the opposite direction when it comes to your top: get a form fitting one to avoid looking sloppy. DO: got for a statement top in bold colors, asymmetry, print (but avoid extra volume).
3. The Jacket: opt for a boyfriend blazer to complete your look – though this shouldn't bee too long or too slouchy! If you've got more colors on you already, got for black!
4. The Shoes: if you're wearing black pants, then black heels it is, because you're aiming to elongate your legs. DO: get the right heel and platform height – basically, your pants should almost touch the floor and definitely shouldn't end 1,2 inch above it, since the result won't be perfectly pleasing.
5. The Accessories: to get more structure, try a thin belt over your blazer. Also, long necklaces work nicely with the shape of your jacket!
Here's what you need to complete the look above:
The boyfriend blazer $64
René Derhy Dejeuner Blurred Print Sequin Top, Multicoloured £59
Abandon Flower Bangle £7.00
Little Oyster locket (AS SEEN IN THE SUN!) £11.00
Double Wrap Dome Stud Belt $40.00
Ri2K Ariel Across Body Handbag, Brown £60
Nicka Bee Bootie – Black sale $85.49
Rachel Pally Wide Leg Trouser in Black $194.00