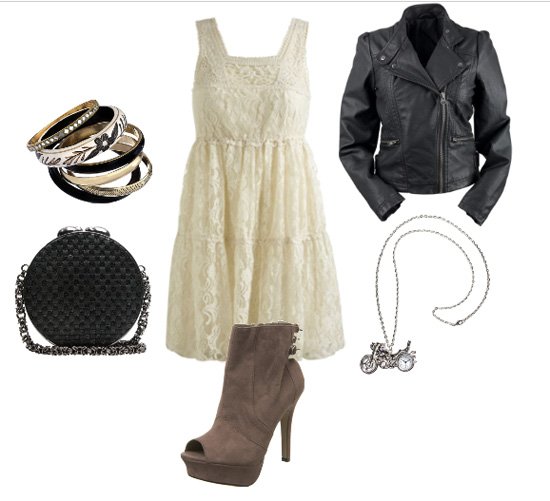 Lace and leather sound like opposites… and they truly are! These 2 fabrics have nothing in common: one is light, the other is quite heavy, one is flexible and flowy, the other is sturdy. And of course, one is the epitome of delicate and feminine and the other rather masculine and on many occasions, it's a symbol of biker edginess.
Well, in their case, opposites attract! Imagine this: how could you match an edgy leather (or faux leather) jacket? With torn jeans? Not unless you're taking the edgy aesthetics literally and totally going for a rough look (unless you sweeten it up with a prettier top). With leather pants? That may look a bit… harsh, unless you're on a motorcycle. So let's create an eclectic look with these two opposite pieces that come from different aesthetic worlds: a faux leather jacket and a lace dress!
* JACKET – First, pick a black faux leather jacket that is quite basic, without too many zippers, pockets or chains. Even more importantly, pick a short leather jacket, preferably with the zipper on one side. Why? Because when opting for this mix, you need versatile, classic, recognizable pieces.
F&F Leather look biker jacketWas £24.00
* DRESS – Select a dress in a softer shade – nude, beige, white, gray make great choices. The lace shouldn't be too precious or too detailed – you should look for a fabric that looks slightly vintage (yellower nuances, thicker fabrics).
* SHOES – Get a pair of shoes that combine both items – in your case, something slightly feminine (so heels and peep-toes fit the bill) and a bit edgy (so ankle boots with platforms work!).
Grey Suedette Buckle Back Boot Now £20.00
* ACCESSORIES – Repeat certain elements from your 2 aesthetics in the look – a long motorcycle necklace matches subtly with your biker jacket. A set of golden, black and white bangles with abstract florals is not too rock, but not too pretty-pretty either and a small chain shoulder bag completes your entire eclectic look!
Mischa Barton Ladybug Circular Across Body Bag £42
Floral Print Bangle Pack Price:£15.00
ZAD MOTORCYCLE WATCH NECKLACE $29.00