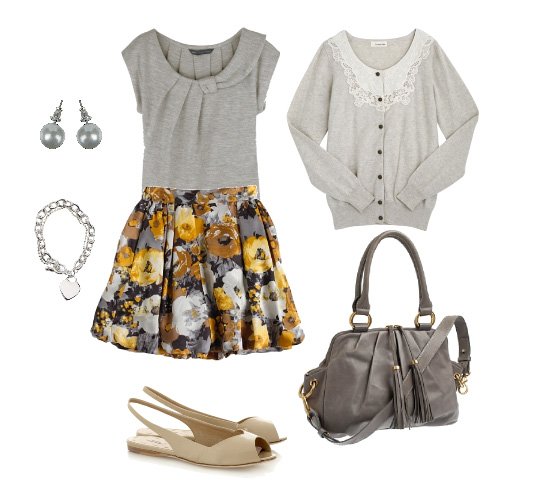 Who doesn't own a simple gray top? We usually pair it with casual jeans or shorts and it proves to be quite an efficient running-errands-type-of-look. But sometimes, we might feel the need to look slightly more feminine and more glamorous – can we incorporate a plain cotton top in an upgraded outfit? Of course we can! Here's how:
* Print it! Grab a floral skirt that includes your gray tone. Abstract prints and even ethnic prints might do the trick as well.
* Mix it! Don't hesitate to combine your cheap cotton with silks and satins, even with smooth cashmere. You'll definitely upgrade your look with the help of these high-end fabrics.
* Warm it up! An all gray look is a bit, well, dull. So make sure that your print includes hot tones, such as yellows, oranges, reds or even purples. Subtly match the warm tones with jewelry or with small details (from your bag, shoes, belts).
* Get feminine flats! Plain gray cotton and sexy high heels? Might work if played right, but no need to aim that far. Opt for feminine flats in nude tones to complete your look.
* Touch it up! With what? With extra delicate touches: a bit of lace on a comfy cardigan or a touch of shiny pearls. Don't over-do it, one small bling is enough!
Hilary Duff was spotted wearing a cotton gray top the other day – click here to get your own!