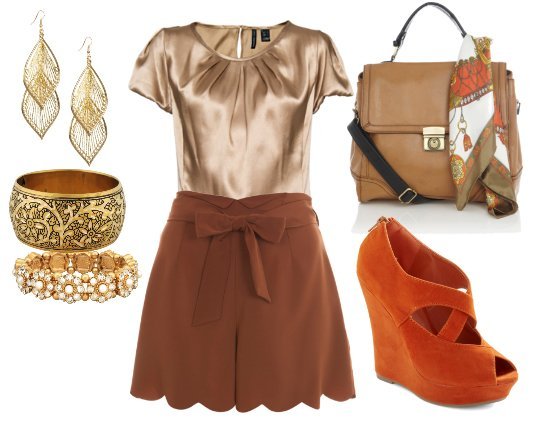 Earthy tones flatter almost everybody and they're particularly appropriate when the calendar doesn't say Spring or Summer – like… right now!
How to Wear It:
* Some may say that a brown and neutral look from head to tow could enter the boring territory, but  paired with brick hues and with golden accessories, soft browns can totally be updated and upgraded and look fresh, cool and modern.
* When wearing brown, make sure that you opt for interesting cuts and not just basic tanks and straight leg pants – instead, go out of the box with dainty scallop hems, high waists, bow details and shiny textures to avoid looking too bland.
* Spice up your look with a hot orange, a bright scarf and sparkly jewelry and enjoy your not-at-all rusty look!
Here's exactly what you need to recreate this outfit:
Teardrop earrings $7.50
Floral bracelet $5.80
Rhinestone Flower Bracelet $8.80
Teardrop closure blouse £24.99
Rust Scallop Hem Shorts £32.00
Top Handle Satchel Tote Bag $48.00
Oh My Darling Wedge $54.99