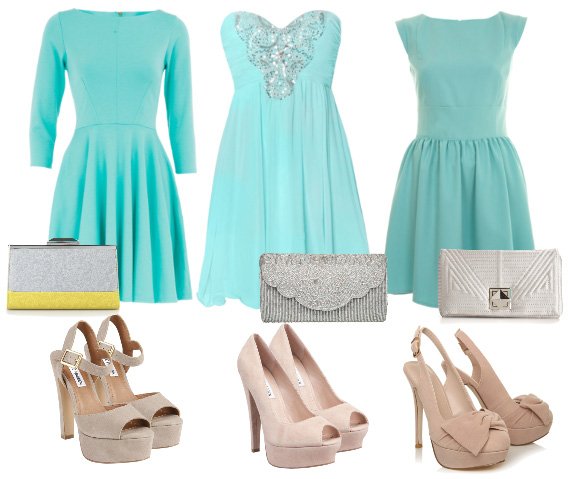 Seafoam, pale blues and mint are Spring's favorites this year and it's best if you don't limit these amazing hues to small accessories – opt for feminine dresses in these variations of blue (with a hint of green)!
Whether you're picking a daytime dress with a retro twist or an evening strapless umber with precious details, you can use this little formula for a trendy look:
Mint Dress + Silver Cluch + Nude Heels!
Go for delicate clutches for an elegant meeting out during the day, but include a bright (such as citrus!) to downgrade the shine. Go for embellished little purses to match your evening dress and for elegant and simple cuts for a cocktail look. Add chunky platforms with straps when you go out while the sun is up and opt for classic peep-toes or more elegant and thinner heels for the afternoon and evening.
Look 1:
Mint flared dress $59.00
Small Frame Clutch $59.00
Platform heels $79.98
Look 2:
Little Mistress  Paige Beaded Prom Dress £50.00
Silver 'Cylinder' Beaded Clutch £55.00
Platform peep-toes $99.95
Look 3:
Seafoam Skater Dress $74.00
Lulu Townsend Quilted Turnlock Clutch $34.95
Carvela Kurt Geiger heels £100.00